Submitted by eBetsy on Sat, 09/12/2015 - 2:05pm
Watch highlights from eBay's We Are Seller Summit and 20th Anniversary Celebration -- including eBay President and CEO Devin Wenig's keynote and a fireside chat with Devin and eBay's founder, Pierre Omidyar -- at http://ebay.com/weare20/video.html!
Submitted by eBetsy on Thu, 09/10/2015 - 8:30pm
After the excitement of a fireside chat between eBay President and CEO Devin Wenig and eBay founder Pierre Omidyar, it was time for us eBay sellers to party like rock stars -- and we did! The thrills began as we exited the main hall on our way to the Grand Ballroom for the evening's gala festivities. Proving that eBay DOES listen, sellers were fêted with a newly revived eBay tradition: the longest clapping tunnel ever, lined on both sides with eBay team members applauding sellers and culminating in a shower of red, blue, yellow and green (what else?) confetti!
In the Grand Ballroom, attendees found open bars and a delicious assortment of hors d'ouevres awaiting our delectation. Cheers, and bottoms up! Assorted performers provided equally delightful and festive visuals: gyrating with hula hoops, dancing with glittery cutout silver 20s and prancing with long ribbon streamers on platforms around the room while artist Dan (sorry, i didn't catch his last name) painted a portrait of Pierre Omidyar by hand -- literally, using both of them.
The first of 2 bands featured Elle King doing her current hit song, "Ex's and Oh's". She got the party started, with the first intrepid dancers taking the floor. Next came the JB Project, whose covers of Top 40 hits from Pharell Williams' "Happy" to Taylor Swift's "Shake It Off" to Bruno Mars' "Uptown Funk" kept the room rocking. As those who were there (and among those on the dance floor) can attest, eBay sellers sure know how to cut a rug! Another shower of eBay-colored confetti brought the night to a close…with a full day of eBay education yet to come.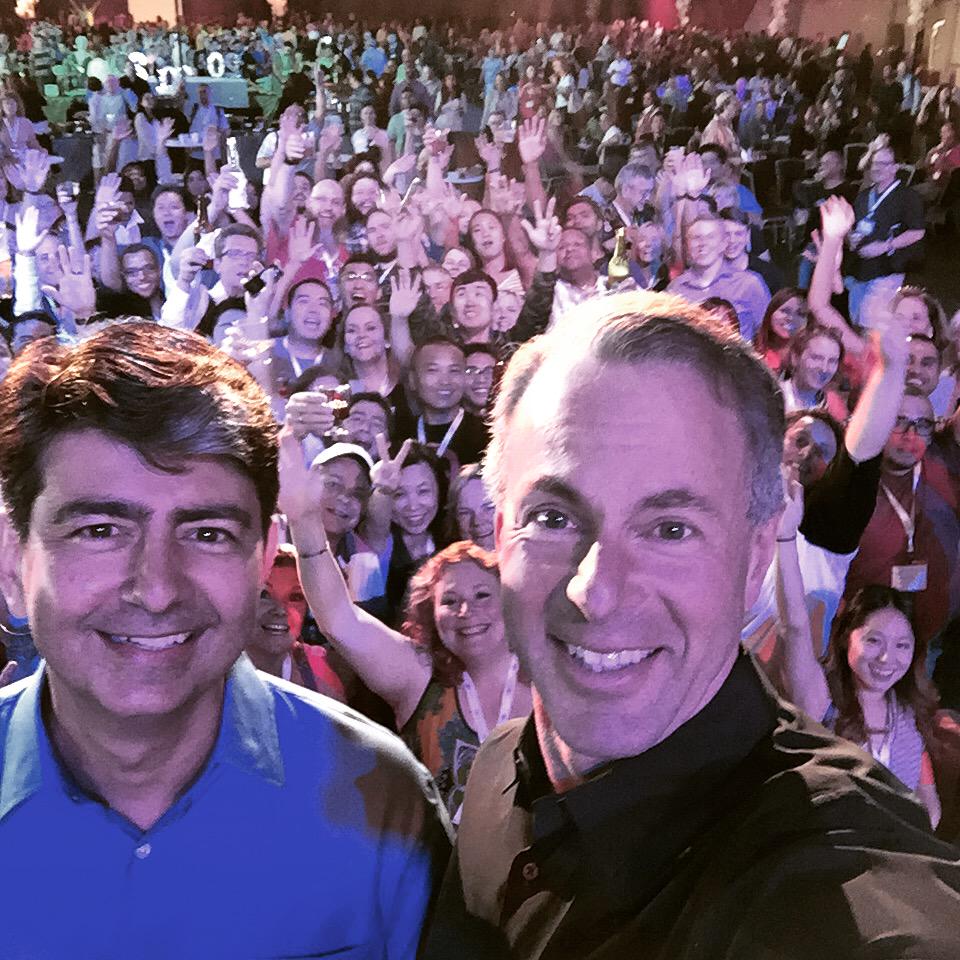 eBay President/CEO Devin Wenig took a selfie with eBay founder/surprise guest of honor Pierre Omidyar and sellers at eBay's We Are Twenty Seller Summit 20th anniversary celebration!
Submitted by eBetsy on Thu, 09/10/2015 - 3:30pm
Opening day of eBay's We Are Twenty Seller Summit kicked off with Devin Wenig's stirring keynote address. Next, eBay executives shared buying and selling improvements, new opportunities for growth and ideas for selling more successfully to your customers.
Moderated by eBay veteran and current Chief of Staff Sarah Brubacher, we heard from:
Then eBay President and CEO Devin Wenig returned to the stage to introduce a surprise guest of honor: eBay's founder, Pierre Omidyar! Modest and unassuming as always, our hero took the stage with an expression of combined delight and bemusement at the enthusiastic standing ovation that greeted him.
But there were still more surprises in store, this time for Pierre, beginning with a video message from eBay's legendary first buyer. Yes, the man who purchased Pierre's now iconic broken laser pointer. Lo and behold, he not only still had it, he relisted it on eBay, where it was purchased by Devin as a 20th anniversary gift for Pierre!
Watch the entire fireside chat with Pierre Omidyar and Devin Wenig at https://www.youtube.com/watch?v=1rrBNS9EQKM.
Submitted by eBetsy on Thu, 09/10/2015 - 1:30pm
eBay President and CEO Devon Wenig gave the keynote address at the We Are Twenty Seller Summit. In his opening remarks, he stressed the fact that eBay is all about "connected commerce", saying, "There are technology companies that believe in a future of drones and robots, and there are technology companies that deeply believe in connecting people. eBay is a deeply people-centered technology company."
He went on to reflect on two incredible decades, then discussed his vision for the future of eBay. It offers a $14 trillion world of opportunity for sellers everywhere as part of "eBay 4.0", which will feature a "laser focus on small and medium businesses." The ultimate goal? Says Devin, "In time…and it will take time…the world will shop eBay first."
Devin concluded his speech by reviewing the details of the initiatives contained in the newly released Fall Seller Update.
See and hear Devin Wenigs's informative and inspiring keynote at https://www.youtube.com/watch?v=fqwrsbbvDs4.
Submitted by eBetsy on Thu, 09/10/2015 - 1:00pm
The 2015 Fall Seller Update was released on Thursday, September 10, during eBay's We Are Twenty Seller Summit -- and the good news is, there's never been a better time to be a small or medium-sized seller on eBay. The initiatives outlined in yesterday's release include:
Simpler, more objective standards for seller performance and Top-Rated status
A centralized Seller Hub for all of your selling activity, featuring more detailed data to help you understand and grow your business
Updates to categories and returns, with a streamlined return process for all sellers
These new initiatives demonstrate eBay's reaffirmation of their commitment to sellers. For a detailed overview of the Fall Seller Update and to register for upcoming webinars with live Q & A, follow the links from the Announcements Board at http://announcements.ebay.com/2015/09/fall-seller-update-simpler-more-ob....
Be sure to tune in this coming Tuesday, September 15, from 11am-2pm PT for a special We Are Twenty After Party featuring eBay team members, who will discuss the Fall Seller Update and answer your questions, along with fun and prizes. Call in and share your favorite We Are Twenty moment!
Submitted by eBetsy on Thu, 09/10/2015 - 12:00pm
From Pierre's first sale in 1995 to today's vibrant global marketplace, experience eBay's story of the last 20 years at https://www.youtube.com/watch?v=oFexG37TbU8. We are sellers. We are buyers. We are makers. We are innovators. We are a global community. We are eBay.
Submitted by eBetsy on Tue, 09/01/2015 - 10:49am
Take a look at how 800 million global listings, 157 million active buyers, and 25 million active sellers bring eBay's global marketplace to life with this infographic from eBay Inc.: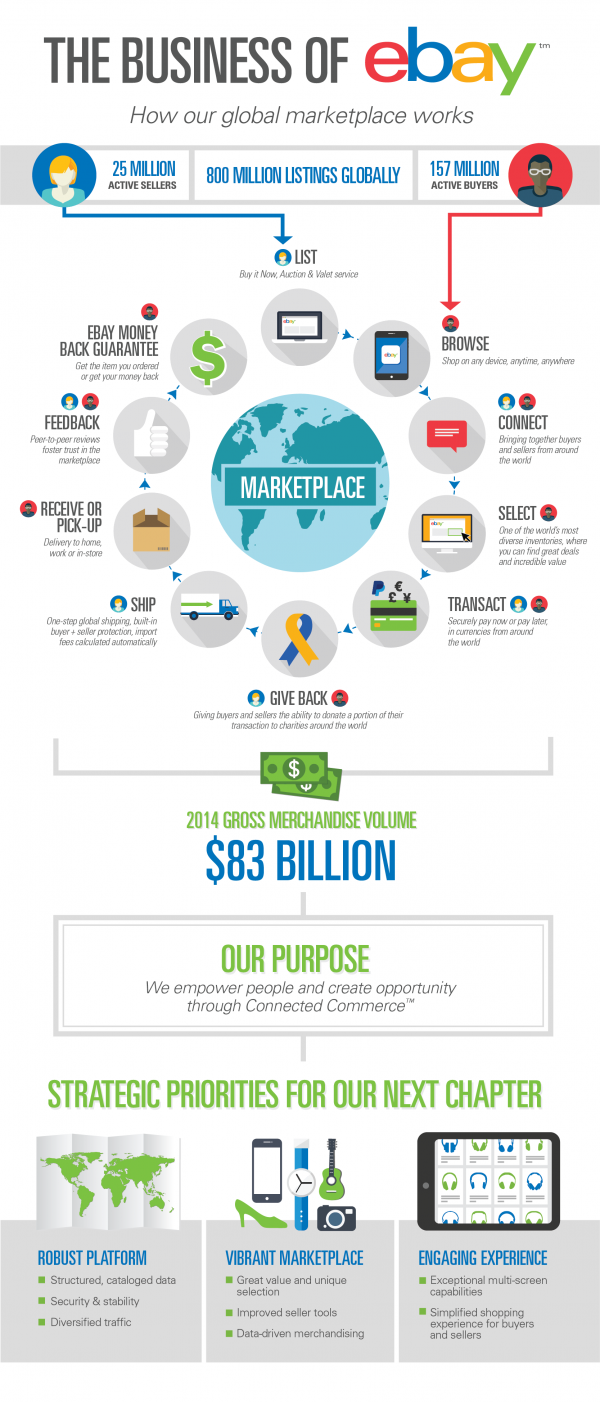 Submitted by Donna on Wed, 08/26/2015 - 2:18pm
It's almost time to celebrate eBay's 20th anniversary, and whether or not you're planning to attend We Are Twenty in San Jose on September 10th and 11th, there's never been a better time to buy or sell eBay memorabilia. You might even want to bring some eBay-branded goodies to trade with other eBayers in San Jose.
These items are known as eBayana, and they've got their very own category on eBay. Just go to Collectibles > Advertising > eBayana. You can even find swag from the eBay Radio Party & Conference -- that would be eBayRadio-ana!
Submitted by eBay Radio Team on Tue, 08/25/2015 - 7:41am
Our guests for eBay Radio Show #610 on August 25, 2015, are:
Danna Crawford, eBay Certified Business Consultant and Top-Rated Seller danna: Time Management for eBay Sellers
Patty Coleman, eBay Education Specialist, Top-Rated Seller whoohoodepot and Organizer of the So-Cal Ecommerce Sellers Group: Rebooting Yourself and Your Business on eBay - How to Keep Moving Forward When Life Throws You a Curveball
Andy Lawrence, Owner of Wholesale Help Community
Cindy Sorley, eBay ID bubbacandance: Having Money Ready for a Spur-of-the-Moment Purchase
Submitted by eBay Radio Team on Tue, 08/18/2015 - 7:56am
Our guests for eBay Radio Show #609 on August 18, 2015, are:
David Gruder, Chief Integrity & Collaboration Officer, Integrity Culture Systems; Board Member & Co-Head of Faculty, CEO Space International: Selling with Integrity
Gladys Ramos, Top-Rated Seller antiques_r_great: Five Expert Tips for Getting Your Holiday Season Started Off Right
Michelle Darden, eBay ID kamibeauty: It's Hot, So Take the Plunge - Increase Your Sales with International Shipping
Leslie Weinstock, eBay ID lekili72: Selling Vintage Jewelry
Submitted by Donna on Mon, 08/17/2015 - 11:06am
Here are some Labor Day selling tips from Audrey Tracy in the eBay for Business blog:
Set your best discounts. Labor Day shoppers expect great deals, so if you are an eBay Stores subscriber, use Promotions Manager to create compelling offers.
Back to School shoppers are still shopping. Labor Day weekend closes out the Back to School season, so keep your school-themed promotions and deals running through the entire weekend.
Buyers are looking towards Fall. Start listing items that typically do well in the cooler months, such as sweaters, boots and outerwear. In addition, think about the items people buy when they plan to spend more time indoors, like video games, TVs, etc.
Optimize for mobile. This applies to all holidays, and to selling on eBay in general, but it might be especially helpful for moms and dads scrambling to get everything done for Back to School and idle shoppers kicking back at those end-of-summer BBQs. We're also rapidly approaching the point where more than 50% of people are shopping on mobile devices, so make sure your listings are optimized.
As you can see, this is a seller's dream. It's just a matter of serving up the right merchandise at the right time!
Read the whole article at http://for-business.ebay.com/preparing-holiday-selling-back-school-and-labor-day.
Submitted by Donna on Tue, 08/11/2015 - 12:00pm
eBay Collections, like Pinterest and Instagram, is a wonderful way to promote your items…and they've gotten even better! Now eBay automatically updates your collections when items are relisted.
You'll still need to refresh any items that were relisted before eBay made their update, but refreshing your collections is easy:
Go to My Collections at eBay dot com slash cln slash your eBay ID (linked under your user ID on your My eBay page)
Select a collection.
Click "See similar items" on your expired item.
If the item was relisted, add it to your collection.
Delete the ended item from your collection.
Submitted by eBay Radio Team on Tue, 08/11/2015 - 8:10am
Our guests for eBay Radio Show #608 on August 11, 2015, are:
Tod Cohen, Vice President and Deputy General Counsel for Global Government Relations, eBay Inc.: Update from eBay Main Street - Internet Sales Tax and Cross-Border Trade
Jennifer Taggart, Attorney and Top-Rated Seller lashopaholic: Preparing Your Business for Your Untimely Death
Lahav Gan, CEO of Campaign GO: How Sales Benefit Your Business
Kistine Diemoz, eBay Inc.: We Are Twenty
Rich Siok, Top-Rated Seller appealingsigns: Marketing Your eBay Listings
Stephanie Inge, Owner of Virtual Training Camp, Education Specialist and Top-Rated Seller stephintexas: My eBay Life